In 2020 everything has been different, and the traditional KEMP Hospice Santa Fun Run is no exception.  In a year where so many charity and participation events have been cancelled, it is great to see that this iconic local event is going ahead, albeit in a very different format.
Due to COVID-19 restrictions, this year it will be run "virtually", keeping people safe whilst having festive fun and raising money. We hope the local streets and parks will be full of socially distanced Santas, all running for a great cause.
Matt Yarranton, the managing director of Blisstech Solutions, said:
"We are very proud to be sponsoring the KEMP Santa Fun Run. Since meeting the staff at KEMP and learning more about the support they provide, it is clear that KEMP are providing a vital service in supporting people and families affected by life-limiting illnesses. During an unprecedentedly difficult time for charities, KEMP need as much support as they can get and we hope that, by supporting this event, we can help to raise awareness and funding for this important local charity."
You can be a part of it, individually or as a team, doing something amazing for the people of the Wyre Forest. Why not launch yourself into the festive season by joining KEMP's first-ever Virtual Santa Fun Run and help to spread the Christmas spirit in a year that has been tough for everyone? You will be helping us to raise vital funds to keep the services of KEMP hospice running through this worrying and anxious time.  Matt Yarranton will also be entering the fun run in the 10K category and you can sponsor him by clicking this link.
Usually held in Brinton's Park on the first Sunday in December, the advantage this year is that you get to choose how, where and when you complete it. You can involve the whole family, including the dog and the pushchair, or participate with your business, friends, club, church or charity. You can run anywhere and at any time in December to suit you. You can run, jog, cycle, walk or even skip. You can set your own challenge of 5k, 10k or any other distance. This is an opportunity for local fundraising on a grand scale.
Fundraiser and event organiser at KEMP Hospice, Coralie Hudson, said:
"The pandemic has hit our fundraising hard, so taking part in our Virtual Santa Fun Run is a great fun way to help raise much-needed funds for our local hospice care and to ensure that we can continue to provide that vital care and support to local people who desperately need our help."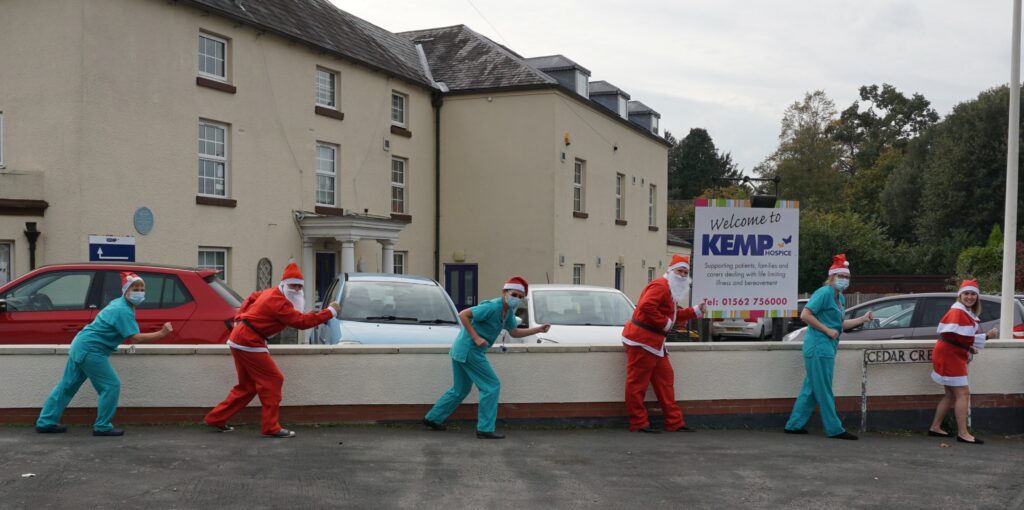 Also new this year is the use of a brand-new online fundraising platform, Enthuse. Encouraging some healthy competition, this enables you to share distances completed (with full integration with the Strava running app), keep a record of sponsorship totals, upload photos, and share on social media to show everyone how wonderful you are for supporting KEMP Hospice!
All the organisers ask is that you follow government guidelines regarding COVID-19, respect others and keep everyone safe whilst completing your challenge.
Participants will still get a much-coveted Santa suit to wear which will be available to collect from the hospice on Saturday 21st and 28th November from 9 am – 12 noon or you can opt to have them posted. Fundraisers who raise more than £50 will also receive a special KEMP Virtual Santa Fun Run t-shirt to wear with pride.
Register online at www.kemphospice.org.uk/virtualsantafunrun. All money raised will go towards KEMP Hospice, helping them to provide specialist care and support to families across the Wyre Forest who are experiencing life-limiting illness and bereavement.
Sign-up today and enjoy the early bird prices of £12 an adult and £8 a child. But this offer is only available until Friday 30th October (normally £15 an adult and £10 a child) with the special promo code: VSFR20