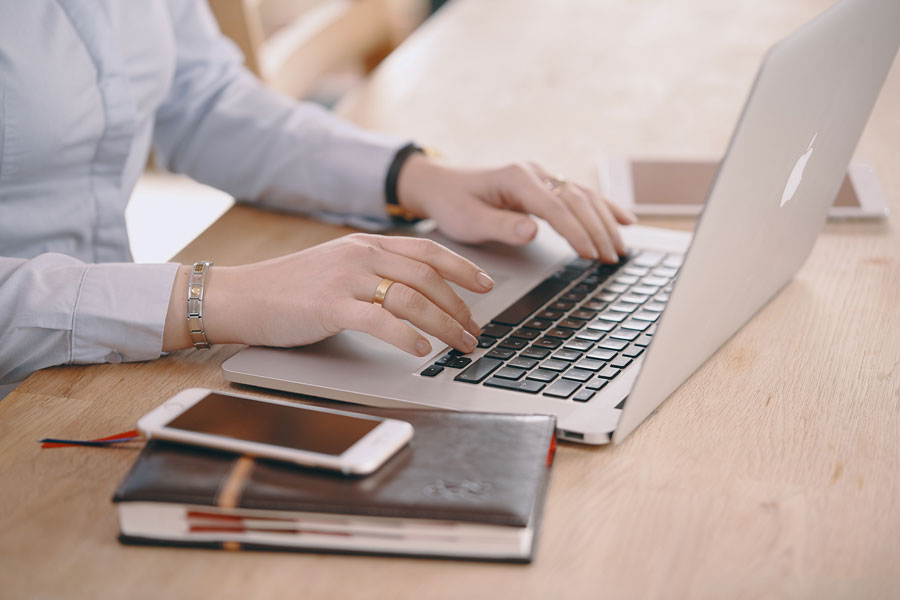 When you start out in business, one of the hardest things to do is find new clients.  Most customers will not buy from you unless they trust you, and trust usually comes from reputation.  But how do you gain people's trust if you are new and don't have much of a reputation? It is a chicken and egg situation!  One of the ways you can build trust is by making your business look professional.  If you put the effort into your image and message, then people will notice. Your small business will look like a professional company, even if it is just you!
1. Use a branded email address
One of the most off-putting things when you are trying to portray yourself as a serious business is using a personal email address.  By this, I mean an email that ends with gmail.com, hotmail.co.uk and outlook.com, to name but a few.  Even if you set up an email address just for your business, if it ends with gmail.com, etc, it is still a personal email address and looks unprofessional.  It is quick and affordable to set up a professional email with your own branded domain name which will make you look like you mean business.  Microsoft 365 Business Basic is an excellent option for this and also gives you 1Tb of cloud storage, and as Microsoft partners, we can get this set up for you in no time.
2. Get your brand sorted
Having a consistent brand that you use everywhere, and that people can identify with, helps them to recognise your business and makes it look more professional.  This is not just a logo; it is a complete brand identity and covers the colours that you use, your font, and even your tone and attitude.  For example, a financial advisor needs to have a completely different persona to a craft brewery.
Working with a brand expert will reveal things about you and your business that you never even thought about. It will help you shape your brand with a logo, colour scheme and overall identity.
3. Set up a website
There are over 4 billion searches on Google every day and, in most people's minds, a company does not exist if it can't be found on Google.
In addition, if you have a skill you want to show off, having a website with images of your amazing cakes, or brickwork, or gardens, etc, will let people check out your handiwork before they contact you. It is your shop window. Potential customers are more likely to contact you if they can see what you do. So, having a way of showcasing your skills will give you an edge over the competition.
However, hiring a web design agency can be very expensive.  These guys are great at what they do, but they do things that you don't need in the beginning, such as bespoke graphic design and custom web development. This is what pushes up the price.  You can get a great looking website using a website builder like Wix, or if you want something a bit more bespoke a simple website can be created using a WordPress template without costing the earth.
4. Setup social media accounts
Getting found on social media is now almost as important as getting found on Google, and setting up business social media pages is easy.  However, there are a lot of platforms to choose from and which ones you choose depends on the line of business you are in.  If you are selling to consumers, then Facebook is a natural choice.  If you are selling to businesses, then LinkedIn might be a better option.  However, if you are not sure which one is best for you, then Facebook is probably the easiest one to start with.  If you use your branding that you got from step 2 then you will have a consistent and professional appearance everywhere.  Once you have the page set up, invite all of your friends to like it, and start to share information about your business.
A Facebook business page is also an easy way to get into advertising your business, but we would recommend hiring a professional for this to ensure you get the maximum benefits out of your advertising spend.
5. Put professional systems in place
Running a business is more than just doing what you are good at.  There is a lot of work that goes on behind the scenes; invoicing, marketing, and lots of other tedious, yet important, actions. Regardless of how you feel about these tasks, you should not neglect them as they can form part of your professional image.  For example, an invoice sent as a spreadsheet or Word document does not look very professional, not to mention the difficultly in managing the process of sending and tracking your payments.  However, if you use an accounting system to do your invoicing, it looks very professional and you can see at a glance which invoices are outstanding so it is easier to keep on top of things.   This will lead to less stress for you and your book-keeping, and accounting charges may even come down.  Another system to consider is a Customer Relationship Manager (CRM).  This will help you keep a track of your customer interactions so you can provide a better level of service.  CRMs should integrate with your email so that emails are automatically recorded against the contacts in the CRM. They also offer integration with your website so that you can capture contact form submissions directly in the CRM and see who is returning to your website and what they are looking at.  Two great systems for this are Quickfile and Hubspot, and both offer free versions.
6. Get a landline
Finally, if you want to give the impression of an established professional business, get yourself a landline number rather than using your mobile phone.  This is a lot easier than it sounds and you don't need to take out a contract for a new dedicated landline.  Using Voice Over IP (VOIP), you can get a landline number over your internet connection.  This offers a huge amount of flexibility as it can be used with a traditional phone, a softphone, or redirected to your mobile phone number.  You can also set up out of hours messaging, voicemail and call routing if you want to have a menu system for incoming calls. Sounds expensive right?  Wrong! You can get a landline number for less than £5 per month!
In conclusion
With just a few key things in place, you can boost the professional image of your business.  The important thing to note is that it does not have to be expensive to achieve and there are many free tools available, as well as affordable monthly subscriptions.  If you need help with any of these points, please get in touch.  We can help you make your business look more professional.