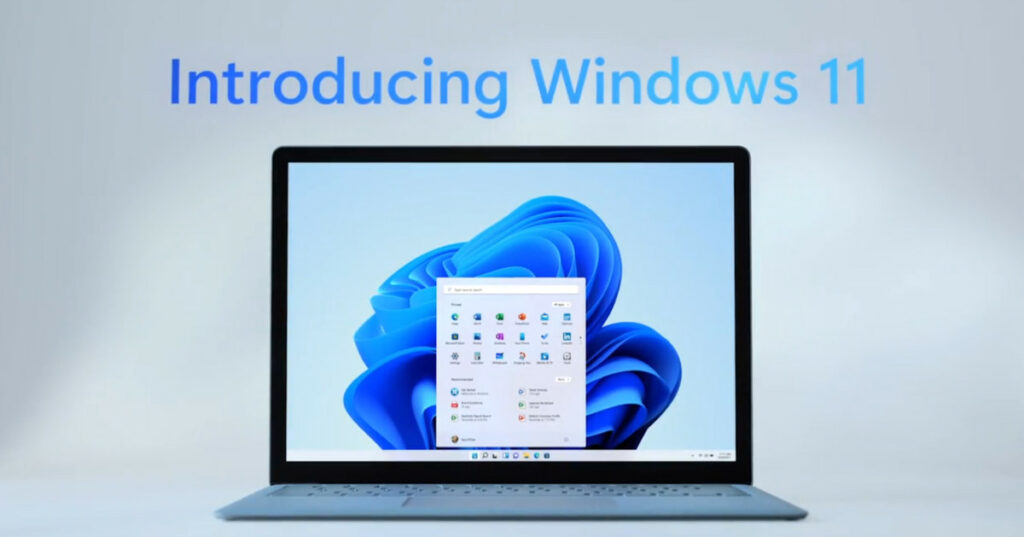 Microsoft has just announced (in a typically 'West Coast'​ way) what's coming in Windows 11.  Here is a rundown of what was announced at the event.
Windows 11 Interface Design
The first impression visually is that it looks kind of like Linux merged with Mac OSx. The Start Menu has moved to the middle of the screen and it has an 'OSx like' search bar. I have to say the interface looks really polished and has a glassy appearance.  From an interface design point of view, it looks very nice.
A new cool productivity feature is "Snap Groups"​ which will allow you to group different apps you are working on together and switch between these in one click. And now, thankfully, when switching between single and multiple monitors, it will remember what windows you had open on the previously 2nd monitor and put everything back as it was before you disconnected. Halleluja! I really missed this after moving from Mac.
Under the hood
Microsoft claims that everything will run faster in Windows 11 and they have improved the update experience by making the updates smaller and therefore quicker to apply. They also claim that Windows 11 is the most secure Windows ever, but there are no details on how.  I assume that this is a combination of things like the hard requirement on UEFI, Secure Boot & TPM 2.0 and improved support for passwordless authentication and 'Zero Trust'.
Windows 11 is now even more tightly integrated with Microsoft 365 and 'the cloud'.  This means that Windows 11 will apparently learn the way you work and will try and put the information that it thinks is most important to you front and centre.  I can't help being reminded of the Office Assistant (Paperclip) by this,  let's hope Windows 11 does a better job than that did.    The Microsoft 365 integrations also mean you can pick up from where you left off on previous devices. Something you can kind of do now, but it looks more native in Windows 11.
Tablets, Gaming and More Improvements
Improvements for 2-in-1 devices like haptic feedback when using the pen and improved voice recognition. Widgets now also come natively to Windows with a flyout widgets pane that you can customise with the things that are relevant to you.
There was a big fanfare around gaming where improvements have been made to provide auto HDR (high dynamic range) that automatically improves the lighting in games.  Support for Direct Storage that is currently in the Xbox will dramatically improve gaming performance.
With Windows 11, Microsoft is making it easier for developers to publish their apps in the Microsoft Store AND will allow the developers to keep 100% of revenue from store purchases.  Microsoft has also made it possible to run Android apps directly on Windows via the Amazon App Store. Interesting!
Minimum Hardware Requirements
The minimum hardware requirements for Windows 11 are:
A modern 1Ghz 64-bit dual-core processor.
4GB RAM.
64GB drive.
9-inch display.
1366×768 resolution.
UEFI, Secure Boot & TPM 2.0.
DirectX 12 compatible graphics / WWDM 2.x.
Microsoft account and internet connectivity required for setup for Windows 11 Home.
Detailed system requirements can be found here.
When can I get it?
The most notable omission from the announcement was a release date. The Windows 11 webpage states it is coming later this year and will be a free upgrade for eligible devices.  However, on the same page Microsoft state 'we expect it to be ready sometime in early 2022', so your guess is as good as mine!  If you want to see if your computer will run Windows 11, you can download a compatibility checker from here.
Something else missing was what new features will be in Windows 11 for businesses.  We have to assume backwards compatibility, but it would have been nice to know if there were any cool new features that businesses can take advantage of.
*** UPDATE *** – Microsoft has since added a Windows 11 for Business webpage that has some details, but it is still light on information at the time of writing.  However, there are deployment planning tools already available so businesses can get prepared for the upgrade ahead of time, which is great news.
I guess more will be revealed in time, so watch this space!  Need to upgrade your business systems to Windows 11?   Contact us to find out about our services.